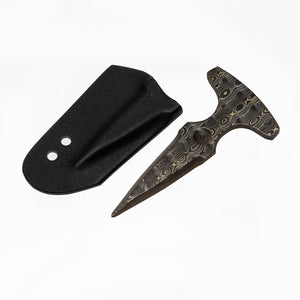 CF GOLD SABOT
Regular price $175.00 Sale
MADE IN THE USA.
Handcrafted from Fat Carbon - Gold Camo Carbon Fiber this is a limited edition piece. 
OAL: 4.75"
Includes Kydex sheath and mounting hardware.
Note:  Carbon Fiber is conductive.
You must be 18 years of age to purchase a Variant One tool. All of our tools and products are capable of severe injury, disability or death upon contact. Anyone purchasing, possessing or using a Variant One tool assumes the liability and risk associated with it. Please keep away from children and observe safe habits to prevent injury. Anyone purchasing, possessing or using our products is responsible for abiding by those laws and regulations associated with its possession. Variant One Industries, Inc. its owners and agents waive all responsibility associated with the use of this product.