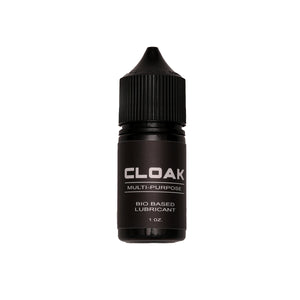 CLOAK Lubricant (1 oz.)
Regular price $15.99 Sale
Bio Based lubricant that is specifically formulated for multi-purpose use and 100% made in the USA.  Its properties allow for safe use on Firearms, Knives and other tools. Bottle includes built in "unicorn tip" for precise application.
-1 Fluid Ounce.
-Will not generate residue following application or use.
-Operates in -15° to 500° F 
-Restores G10 back to intended color.
-Enhances Cerakote coatings to offer an additional layer of protection against corrosion.
-Safe on plastics, polymers and other materials commonly found on guns and knives.
-Formula includes PTFE Additives to increase lubricity
-Non-Toxic.  Biodegradable and Non Hazardous.
Not available for international shipping.